So I know I have many female fashion icons, but I have to give a shout out to one of my most favorite male fashion icons. He's seriously been a force to be reckoned with ever since I found him in the comedy TV show, "3rd Rock From the Sun," and loved him so in "10 Things I Hate About You," and my love for him reached its highest peak in "500 Days of Summer."
He not only proves to be an amaazing actor, especially in the recent "Inception," but beautiful eye candy as well (haha). His fashion nowadays is very classy and sophisticated with a hint of "bad-ass" ;). Oh and how could I forget, he's one of my main celebrity crushes with his cute smile and lovely features :).
Yes, it's the oh so talented and handsome,
And here are a few looks from JGL I'm in love with, and of course a few snap shots of my favorite movies from him.
Classy chic, definitely am loving the camel color pants w/ the plaid brown vest. (sigh) he's so dreamy, (sorry for the random comment haha).
amaazing, if I ever did another androgynous look, it would be this hehe. Love how its a dynamic between classy and edgy, with the sunglasses and denim.
He's rocking the oxfords (my faavorite kind of shoes), love the shade of blue for his blazer.
Now onto the TV show and movies I've previously mentioned of JGL <3.
3rd Rock From the Sun.
This is where I found out about him. Before he had long locks and a quirky little boy personality. Always loved him in this show, if you've yet to see this show, please watch - it's hilarious :).
10 Things I Hate About You.
Who could forget such an amazing movie made in the late 90's. I really loved him in this, made my heart melt.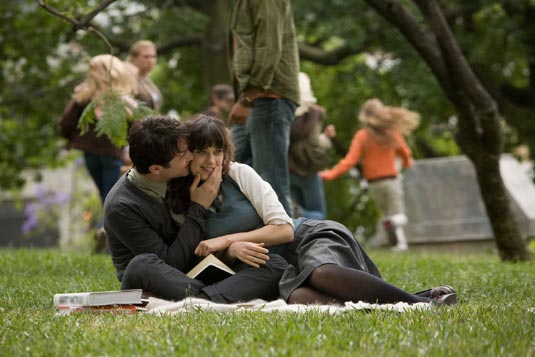 500 Days of Summer.
Of course, I fell in love w/ him in this movie. His character really spoke to me. They both had such a great on-screen connection. Will always be my favorite film <3.
Inception.
And this was where I really started to notice his great sense of style, although it was for his character, I feel it really translated into his everyday wardrobe and looks. This was one of my favorite summer movies by far.
-----
Joseph Gordon-Levitt. Even his name is intriguing. My main guy celebrity crush and of course, male fashion icon. <3
Hope you lovelies are doing well and your weekend is going great! Wanted to say thank you again for your kind comments and love & support. Until next time, keep inspiring.
Love, KC.